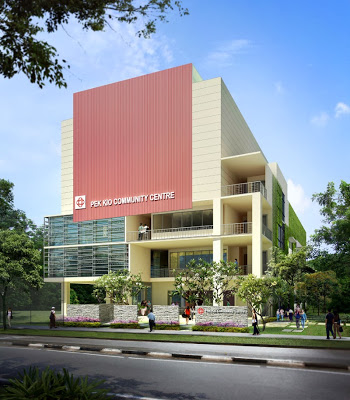 Pek Kio CC is the first community centre in Singapore to be co-located with a school. Farrer Park Primary School and Pek Kio CC share common facilities such as the Indoor Sports Hall, Concourse and Play Field. Residents in the community can use the ISH after school hours and during weekends.
Being our closest neighbour at our doorstep, PKCC is the school's strategic partner and our collaboration brings about student learning and development outcomes while at the same time connects residents in the community with the school.
Pek Kio CC also features facilities such as a 200-seater performance theatre, concourse, multi-purpose indoor sports hall, dance studios, music rooms, a culinary room and an enrichment centre for students. Some of the popular courses offered by the CC include Archery, Belly-dancing, Children's ballet, Taekwondo, Taichi and Wushu.
Contact Information:
PEK KIO COMMUNITY CENTRE21 Gloucester Road
Singapore 219458
Telephone: 6299 0565
Fax: 6299 2341
Email: PA_PEKKIOCC@pa.gov.sg
Operating Hours: 9.00am – 22.00pm
Payment Hours: 9.00am – 21.30pm